Laos
Visit Laos, a unique land of swift rivers and magical rainforests
What to see in Laos?
Laos is a unique country in Southeast Asia, known for its unabashed phlegmatic, calm and friendly nature. It is a land of mountain peaks surrounded by misty shrouds, swift rivers, magical rainforests and valleys. It borders Vietnam, Thailand and Myanmar. The border with the latter two runs through the legendary Mekong River, a common artery for China, Myanmar, Laos, Thailand, Cambodia and Vietnam. Laos is a mountainous landlocked country. The highest of the peaks is Mount Bia or Phubia (2,830 meters).
Laos is considered by many to be an exotic country where you can see pristine nature, mountains and jungles that are still unaffected by human impact. It is the only place in Asia where you can find such a thing. However, unlike Thailand and Vietnam, the tourist influx in Laos remains low. Laos lives its unique life like the flow of the Mekong River.
Want to visit Laos? Apply for an electronic visa at our visa center at an affordable price!
order a visa
Traditional sports are still very popular in the country, such as pirogue races on the Mekong, muay lao, a form of kickboxing, and the game of kato, a ball woven from rattan that is thrown over a net with the feet and head. In recent years, soccer, volleyball and table tennis have become popular in Laos.
Tourist infrastructure in Laos is not yet at a high level of development, so fans of comfortable passive recreation trip to this country may seem uninteresting. However, for those who dream of escaping from the luxury of popular world resorts, Laos is a great option. There are plenty of opportunities here for lovers of trekking, speleology and mountaineering.
What to visit in Laos?
Apart from jungles and mountains, there are other places to visit in Laos. First of all, these are Vientiane with its bustling capital life, colorful Vang Vieng offering active entertainment, and the former royal capital Luang Prebang with its attractions.
Each trip around the country is an opportunity to thoroughly explore a new attraction that hides its own unique secret. Therefore, when choosing what a tourist should see in Laos on his own, it is worth emphasizing not on quantity, but on quality - a detailed acquaintance with each historical or natural monument will allow you to get into the atmosphere of these places and reveal the real essence of Laos. Here are the most interesting things to do in Laos. This list will help you choose the best attractions for your travel itinerary.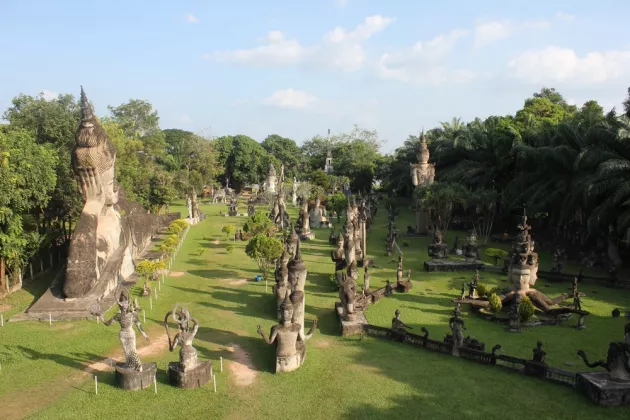 Buddha Park (Wat Xiengkhuang)
Buddha Park (Wat Xiengkhouang) is a unique attraction in Laos. This sculptural complex, located just 20 kilometers from the capital, is the center of religious sculptures in the park area. Travel guides recommend visiting this place to all visitors to the country. Buddha Park is famous for its impressive Hindu and Buddhist statues, which are arranged here in a chaotic order. In total, there are more than two hundred sculptures, each of which is unique. The painting technique creates an antique effect, but the whole complex is a modern creation. One of the most popular places in Buddha Park is the brightly colored 3-story building that symbolizes earth, hell and heaven. Visitors can go inside and see with their own eyes what awaits them in each of these places.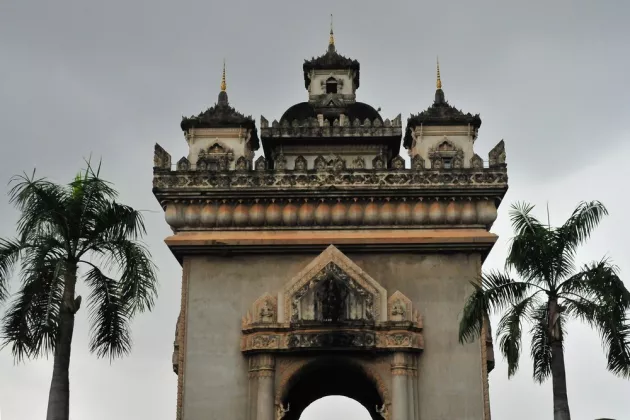 Patuxai, or Victory Gate in Vientiane
Choosing places to visit in Laos, especially in its capital, it is worth paying attention to the Patuxai Arch. This remarkable structure was built in the heart of Vientiane city in the late 60s of the last century. By its architecture and design, this arch is a copy of the famous Arc de Triomphe in Paris, but slightly smaller in size. It symbolizes the struggle for the independence of the people of Laos from French and American influence. Today, the locals are proud of this symbol of independence, which is embodied in this magnificent monument. At the tops of the arch are four platforms, from which you can enjoy a magnificent panorama of the city streets. There tourists can also buy souvenirs and other items in numerous stores, as well as visit cozy cafes.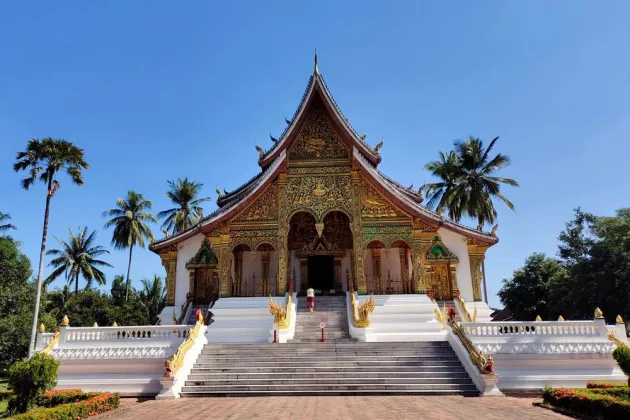 Wat Xiengthong
In the north of the republic, two hundred kilometers from its capital, there is another attraction of Laos - Ho Kham Palace (Wat Xiengthong). This palace, which combines Lao and neoclassical French styles, was originally built in honor of the first ruler of Laos - Sisavang Vong, but now it houses a museum. One of the notable exhibits is an exact replica of the Golden Buddha, presented by the Khmer king to the ruler of Laos. The frescoes on the walls of the palace deserve special attention. The palace complex also includes a majestic temple where the royal throne is kept under the watchful eye of local guards.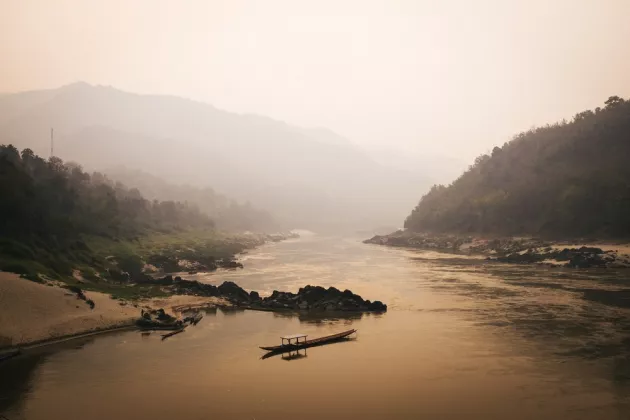 Mekong River
The main waterway of Laos is the Mekong River, which has active water transportation. If you're looking for a vivid experience in Laos, a boat trip on the Mekong is a must - it's a great way to get to know the country from the inside out. The Mekong River originates in the Tibetan mountains and flows 4,500 kilometers into the South China Sea. The river coastline has become an ideal place for the many people of Laos to live. Many rice paddies and countless fish in the waters can be found here. Nevertheless, the huge hydropower potential of the river is practically not utilized due to the low level of technical development of the country.
Want to visit Laos? Apply for an electronic visa at our visa center at an affordable price!
order a visa
Thank you for your message!
We will contact you as soon as possible.
Kind regards,
Visa-Navigator.com team