Myanmar
This trip will be an unforgettable adventure and will allow you to discover a new amazing country
What to see in Myanmar
Myanmar is a country where influences from different cultures and traditions come together. Its heritage is reflected in the many temples, pagodas and monasteries that rise majestically above the landscape. Buddhism plays an important role in the lives of the locals, and travelers often visit Myanmar to learn about this ancient religion and absorb its wisdom.
However, Myanmar not only offers spiritual and cultural treasures, but also has stunning nature. Here you will find majestic mountains, lush jungles, waterfalls and picturesque lakes. Myanmar is also famous for its beautiful beaches, where you can enjoy a relaxing vacation on white sand and crystal clear water.
These unique natural and cultural attractions are attracting more and more tourists to Myanmar. The country is growing rapidly in the tourism sector, offering a variety of outdoor activities, excursions and cultural immersion. Many hotels, restaurants and spas are ready to welcome visitors and offer them a comfortable and unforgettable stay.
Myanmar also offers many investment and business opportunities. The country is actively developing, attracting foreign investment in various sectors such as tourism, energy, agriculture and manufacturing. The favorable investment climate, availability of labor and strategic location make Myanmar an attractive business destination.
Myanmar is thus a country that offers unique opportunities for tourism, investment and business. Discover its culture, enjoy its natural beauty and realize your business plans in this delightful country. Visit pagodas, temples and other attractions in Yangon, Mandalay and other cities during your Myanmar trip.
Popular cities in Myanmar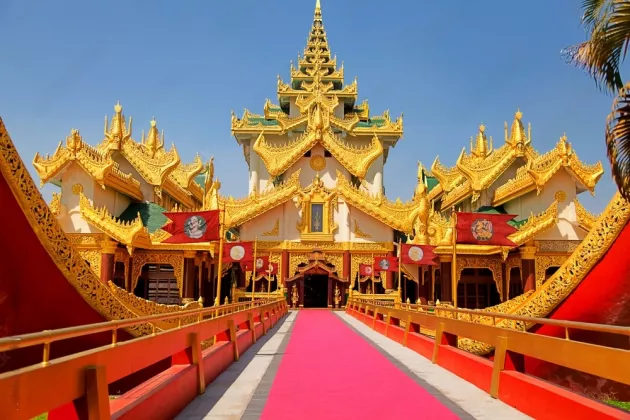 Yangon is the largest city and former capital of Myanmar. It is located on the banks of the Yangon River and is the economic, cultural and commercial center of the country. The city is known for its beautiful temples, monasteries and colonial architecture.
One of the main attractions in Yangon is the Shwedagon Pagoda, one of the holiest Buddhist temples in Myanmar. The pagoda is covered in gold and decorated with precious stones, and its top is adorned with a diamond. There are also many other temples in Yangon such as Botataung and Sule.
The city is also known for its picturesque parks and lakes such as Kandawgyi Park and Inlei Lake. There are also many markets in Yangon where you can sample local cuisine and buy souvenirs.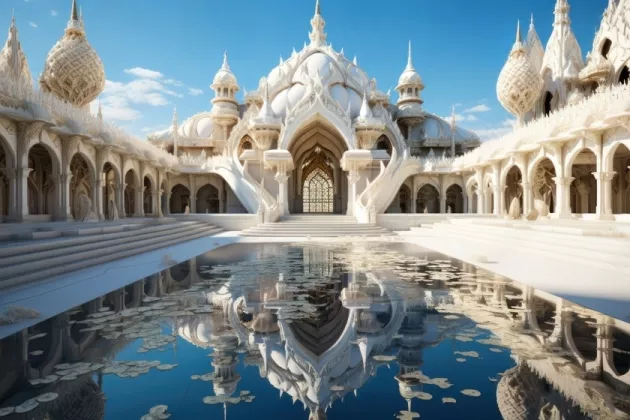 Mandalay is Myanmar's second largest city and the cultural capital of Myanmar. The city is located on the banks of the Irrawaddy River and is the center of Buddhism and religious culture in Myanmar. Mandalay is known for its magnificent palaces, temples and monasteries.
One of the main attractions of Mandalay is the Mandalay Palace, built in the 19th century. The palace is a symbol of Myanmar's monarchy and is a beautiful complex of buildings surrounded by high walls. Inside the palace are museums, temples and palace gardens.
Another famous attraction is the Mahamuni Buddha Temple, which houses a huge statue of Buddha covered in gold.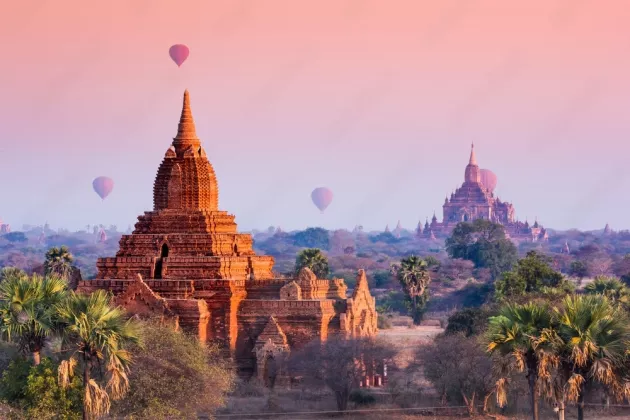 Bagan is an ancient city located in the east of Myanmar on the highlands of the Irrawaddy River. The city is famous for its ancient Buddhist temples and pagodas, which were built in XII-XIV centuries.
There are more than 2000 temples and pagodas, some of which are national treasures of Myanmar. One of the most famous landmarks in Bagan is Shuedagon Pagoda, the tallest pagoda in the city, which offers a magnificent view of the entire city and the surrounding area.
The city is also known for its beautiful scenery and hot air balloon flights, which offer tourists a bird's eye view of Bagan's splendor.
What to visit in Myanmar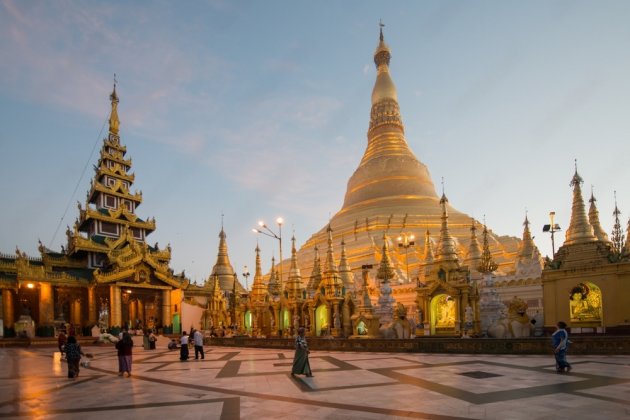 Shwedagon Pagoda is one of Myanmar's most famous landmarks located in the city of Yangon. This majestic structure is perched on a hill and is visible from different parts of the city.
The Shwedagon Pagoda has a conical shape and a gilded spire topped with a precious stone. It has a height of 99 meters. The pagoda has a terraced structure and consists of several levels richly decorated with carved ornaments, Buddha statues and numerous temples.
According to legend, the pagoda was built over 2,500 years ago to store Buddha's hair. Over the centuries, the pagoda was repeatedly destroyed and rebuilt. It took its modern form in the XVIII century.
A visit to Shwedagon Pagoda is a must on any tourist trip to Myanmar. The sight of the golden spire against the background of bright greenery and blue sky leaves an indelible impression.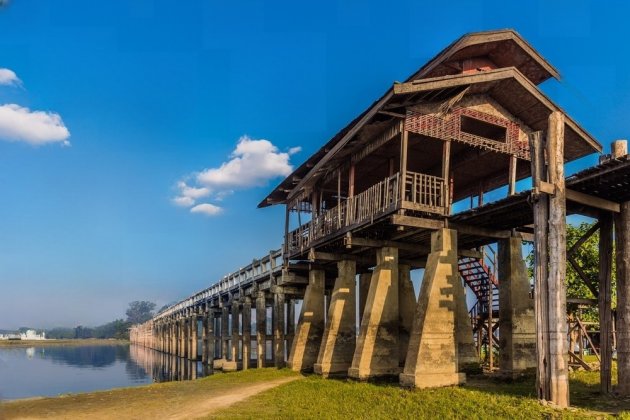 U Bein Bridge is a famous landmark in the city of Amarapura in Myanmar. This wooden footbridge crosses Taunthaman Lake in the south of Amarapura. It was built in 1850 from teak wood on the orders of Viceroy U Bein.
The bridge is 1.2 kilometers long. It rests on 1,086 piers which are laconic in shape. The bridge has a curved structure and a winding line that follows the outline of the lake.
Thanks to this, the Wu Bein Bridge blends in with the surrounding landscape and looks like an organic part of nature. The structure is made entirely of teak wood without the use of metal nails, the fasteners are on wooden pins.
U-Bein Bridge is rightly considered one of the most beautiful wooden bridges in the world. It is a unique piece of architecture, preserved since the 19th century, and a hallmark of Myanmar. A visit to the bridge is an obligatory part of sightseeing in this country.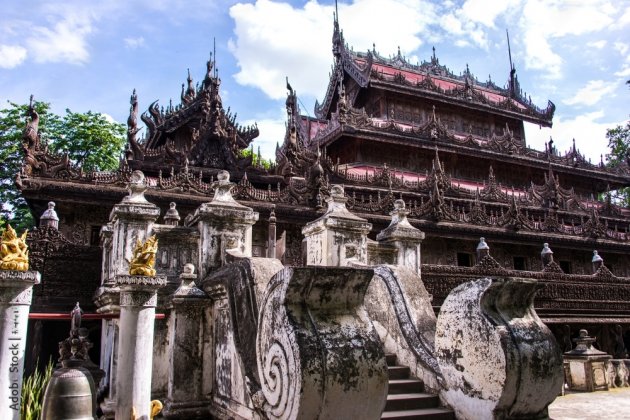 Golden Palace Monastery, or Shwenando Kyan, is a working Buddhist monastery located in P'yin Man in western Myanmar.
It was founded in 1753 on the orders of King Alaungp'ya to preserve a relic, a portion of Buddha's hair. The monastery is a large-scale wooden complex with gilded roofs and rich wood carvings.
The monastery is home to about a thousand monks. Visitors can see their daily life, the routine of worship in the temples, the traditions of cooking.
Especially picturesque are the ceremonial processions of monks around the monastery. They are dressed in brightly colored robes and carry ritual objects, umbrellas, flags.
The architecture of the monastery is characterized by graceful lines, decorative and gilded details. It is a fine example of Myanmar's traditional wooden architecture.
A visit to Shwenando Monastery gives you the opportunity to immerse yourself in the atmosphere of a Buddhist monastery, admire masterpieces of Burmese art and get acquainted with the way of monastic life.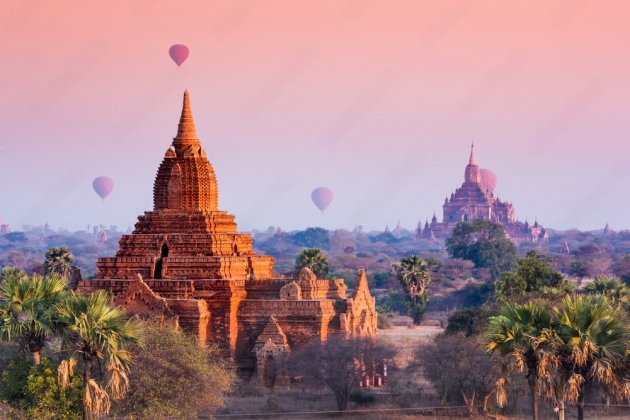 Mahamudi Pagoda is one of the most revered shrines of Buddhism in Myanmar. It is located in the city of Mandalay. This pagoda was built in the mid-19th century by the order of King Mindon. According to legend, it houses four statues of Buddha brought from India, made during his lifetime.
The pagoda is a massive brick structure topped with tiered umbrella roofs. Its height is 46 meters.
Inside the pagoda in the hall, lit only by candles, is the main shrine - a 4-meter statue of Buddha, made of bronze and covered with a thick layer of gold a centimeter thick. The statue's countenance is considered very expressive and lively.
The pagoda is surrounded by a courtyard enclosed by a stone fence. On the perimeter there are small temples and chapels.
Pilgrims from all over Myanmar flock to the Mahamudi Pagoda daily to worship the shrine and offer prayers. Monks perform solemn ceremonies and rituals at the Buddha statue.
A visit to this sacred place allows you to touch the ancient traditions of Buddha veneration in Myanmar.
Interesting Facts:
Myanmar is one of the most closed and isolated countries in the world. It has been ruled by a military junta for decades, resulting in restrictions on freedom of expression and movement.
Myanmar has a rich history that dates back more than 2,000 years. It is home to ancient cities and temples that still preserve architectural and cultural monuments.
Buddhism is the state religion in Myanmar and plays an important role in the lives of the locals. Nearly 90% of the population practices Buddhism and there are over 500,000 monks in the country.
Myanmar is home to many ethnic groups, each with their own unique culture, language and traditions. The most prominent ethnic groups are the Burmese, Shan, Karen and Rohingya.
Myanmar is known for its spectacular scenery including mountains, valleys, rivers and beaches. The country is home to one of the highest mountain peaks in Southeast Asia, Mount Hkakabo Razi.
Myanmar is a famous producer of amber and gemstones such as rubies and sapphires. These gems attract many tourists and investors from all over the world.
Myanmar has one of the highest temperatures in Southeast Asia. Temperatures can reach 40 degrees Celsius in the summer, especially in areas of the central part of the country.
Myanmar is famous for its hospitable and friendly locals. Smiling and greeting are common practices when meeting strangers.
Thank you for your message!
We will contact you as soon as possible.
Kind regards,
Visa-Navigator.com team
Was the page helpful to you?
0
0
Found an error? Let us know
Leave a comment
Thank you, your feedback is important for us!
An error occurred