South Korea
Visit South Korea, a unique country with a rich history and interesting sights!
What to see in South Korea?
South Korea is an amazing country that has many interesting places available for tourists. If you want to visit South Korea, you have many opportunities to enjoy all that this country has to offer.
Undoubtedly, it is a unique country with a rich history and unique cultural monuments. In addition, you can enjoy the stunning nature and many vacation options: hot springs, beaches, ski resorts.
South Korea is a country that is always one step ahead of the rest and amazes with its traditions and innovations. Here you will find a lot of entertainment for every taste. South Korea is still an unusual destination that is not as popular as other countries. If you are looking for interesting travel destinations, you should definitely book a flight to Seoul.
What to visit for a tourist in South Korea?
Gyeongbokgung Palace
Gyeongbokgung is the main palace of South Korea. It is located in the very center of Seoul and is a must-see for tourists. Most of the buildings that make up Gyeongbokgung are made of wood. On the way to the palace, you can see several monuments dedicated to Lee Soon-sin, a medieval admiral and inventor of battleships. Also near the entrance is a monument to Ruler Sejong, who created the Korean script.
Changdeokgung Palace
Many tourists visiting Seoul do not miss a tour to Changdeokgung Palace. This palace has preserved its original appearance. Thanks to this, tourists can see the architectural style of the Joseon Dynasty, to which this palace corresponds. In the palace walls, Sunjong, the last monarch of the country, lived until his death. In 1955, Changdeokgung was included in the list of UNESCO World Heritage Sites. The territory of the palace is quite picturesque due to its irregular topography. Thousands of tourists come to the foot of Eagle Peak Mountain to admire the beauty of this unique architectural monument.
Soraksan National Park
This is a unique place where you can enjoy the natural beauty of South Korea. It is worth a visit for anyone who is looking for solitude and wants to enjoy the picturesque scenery. The park is famous for its waterfalls and geysers, which make an incredible impression. There are also ancient Buddhist temples, which have a history of more than one century. Soraksan National Park is an amazing combination of jagged peaks, beautiful waterfalls, deep caves and dense forests.
Hahwe National Village
It is a picturesque place on the banks of the Naktongan River, a "folklore" village, "land by the winding river", and it is also identified with "lotus flower floating on the water". All these names and descriptions reflect the world that opens up to tourists who are caught in the atmosphere of the ancient era. In Hahwa, one can see a real Confucian school and architectural structures from the Joseon Dynasty. The carved wooden carnival masks made by local craftsmen are another pride of the village.
Jeju Island
Jeju is an island with a history of over four hundred million years. It is home to huge rocks of volcanic origin. The island is also famous for its extinct volcanoes, the most famous of which is Hallasan. Another natural feature of Jeju is the violent riot of the elements, with powerful gusts of wind roaming freely among the rocks. In addition to the breathtaking island nature with its waterfalls and grottoes, you can also enjoy the unique flavor of the local culture.
What else is there to see in South Korea? If you are interested in history, you can head to Gyeongju where you will find the Taekwondo Palace and many other historical sites. You can also visit Mount Nam for a beautiful view of the city.
South Korea also has many parks where you can spend time in nature. You can go to Namsan or Pajeong Parks to enjoy beautiful views of the city and nature.
Which cities to visit in South Korea?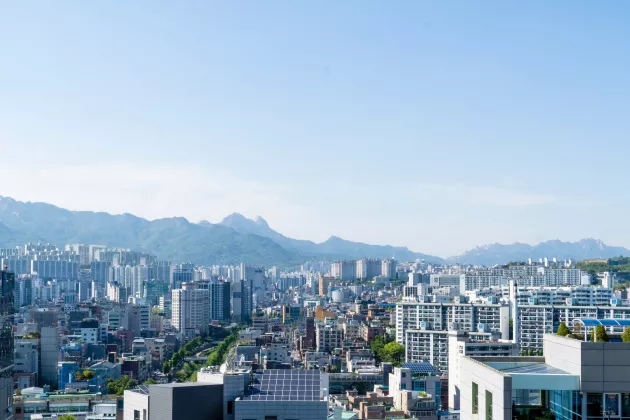 Seoul
Seoul is one of the most popular cities in South Korea to visit. Seoul is home to many museums, parks and iconic landmarks.
The Seoul Tower is the perfect place to view the city, which is located on Namsan Mountain at a height of over 240 meters. The 236-meter tall tower gives you a view of Seoul from a height of 479 meters.
Myeongdong Cathedral is the main shrine of Korean Catholics and belongs to the Archdiocese of Seoul. The cathedral is dedicated to the Virgin Mary, the patron saint of the city, and is one of the most interesting examples of the Neo-Gothic style in architecture.
Myeongdong Street has long been known for its fashion and style. Here you can find many things to spend money on, in addition to the already famous South Korean cosmetics.
The National Museum in Seoul is among the top ten museums in the world. The total area of the museum is about 137 thousand square meters, and the number of exhibits exceeds 200 thousand pieces.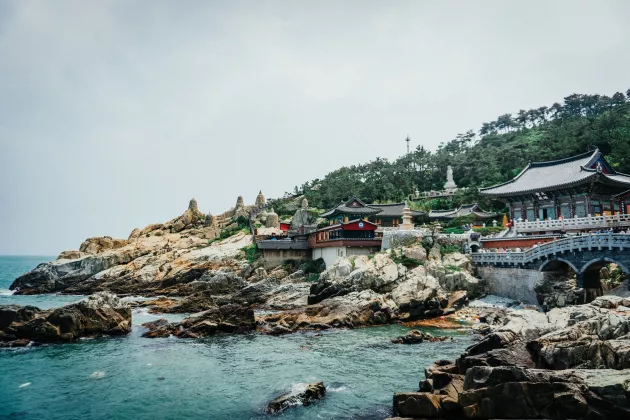 Busan
Another city worth visiting is Busan. It is the second largest city in Korea and its maritime capital. The city is famous for skyscrapers and the world's largest department store. You can go to the beach at Haengdo where you will find crystal clear water and sandy beaches. You can also visit the famous Gamcheong Market where you will find many stores and restaurants.
Taejongdae Park is located on the coast of Yeongdo in Busan and consists of rocky beaches. There are plenty of trails to walk on while enjoying views of forests and Buddhist temples. If you prefer to see the world from above, you can head to the lighthouse for incredible views.
Visiting Kamcheon Cultural Village is one of the most exciting things to do in Busan city. If you are looking for unusual activities in Busan, make sure to visit this village. It is located on the hills, offering stunning views of the city, and its stores are painted in pastel colors. Each wall is decorated with interesting street art and murals that attract attention and create a cozy and comfortable atmosphere.
What other cities in South Korea are worth visiting?
Incheon is a city with 11 park areas. In spring, one of them, Grand Park, is a natural wonder, as the cherry blossoms bloom here. Grand Park is a unique park with natural landscape: mountains, forests and bays. Songdo Park, on the other hand, is artificially created, with lots of greenery, flowers and inhabited by deer and other small animals. The park has a man-made river filled with sea water.
Pyeongchang is a county in Gangwon-do Province that gained fame after hosting the 2021 Winter Olympics. A lot of sports facilities and structures have been built here. For example, the ski resorts of Phoenix Park, Yeonpyeong and Alpensia are popular with tourists, and the Odaesan Mountain Park is suitable for mountaineering.
Daejeon City is located in Chungcheongnam-do Province. The city is surrounded by the mountains of Gubongsan, Yuseong, Pomunsan, Sikchangsan and Jangtaesan. At the foot of Mount Sikchansan are several medieval temples surrounded by cherry orchards. Tourists should visit the Expo Bridge and Expo Park, the Hanbit Tower and the world's largest IMAX movie theater. Also popular with travelers are the Yuseong hot springs.
The city of Gwangju was founded in 57 BC. Nowadays, there are many museums, galleries. In the fall, the city holds a cabbage kimchi festival and a contemporary art exhibition. Art Street, the National Museum, Mudunsan Mountain Park, extensive green tea plantations in Bosong and other attractions will interest travelers.
Daegu is the fourth largest city in South Korea. Here, tourists will be interested in the city's stadium, which hosted the 2002 FIFA World Cup. It is also worth visiting Apsan Park, where there are several Buddhist temples with beautiful architecture, to see the ruins of the ancient city of Gyeongju. Pahljoryeong Pass, local cafes and restaurants, beautiful nature of the surroundings will make your vacation interesting and unforgettable.
South Korea has many amazing places to visit. Don't miss the opportunity to see all the places this country has to offer. Get your visa and go on a trip!
We will handle your visa procurement for any country.
Thank you for your message!
We will contact you as soon as possible.
Kind regards,
Visa-Navigator.com team