Antigua and Barbuda
Visit Antigua and Barbuda, the land of 365 beaches!
What to see in Antigua and Barbuda
Antigua and Barbuda is a unique state in the Caribbean, which is located on three islands: Antigua, Barbuda and Redonda. These islands are famous for their unique nature, including secluded bays protected from storms by coral reefs, as well as white-sand beaches and mountain peaks covered with luxuriant vegetation. The largest of the islands, Antigua, is an important tourist center, and here you can find as many as 365 beaches - one for every day of the year! In addition, Antigua has a modern infrastructure including comfortable hotels, nightclubs, entertainment complexes and casinos. Barbuda, the second largest island, is entirely made up of coral and amazes with its nature, which has been preserved in its pristine state.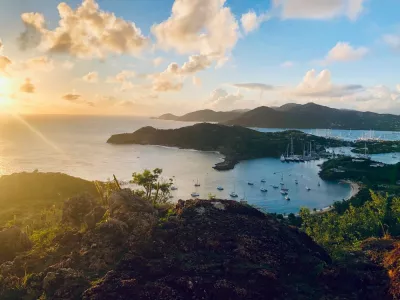 The most comfortable period for a good vacation will be from late December to early April. At this time the weather conditions are most favorable. August through December is when it rains, while June through November has constant gale force winds and tropical storms.
Antigua offers a fantastic vacation environment. Here you will find the most modern, comfortable and well-appointed hotels, casinos, clubs and entertainment complexes. 65% of the island's population is employed in the specialized service sector of the tourism business. In addition, the locals are very hospitable and friendly, which creates a peaceful and soulful atmosphere on the island.
What to visit in Antigua and Barbuda?
Let's take a closer look at what cities and places to visit in Antigua and Barbuda.
St. John's is Antigua's main city, the country's largest tourist destination and the "heart" of trade relations. The capital city of Antigua is unrivaled with only 30,000 people. What's interesting is that this is almost half of the country's population.
Some of the most popular places in St. John's include the Heritage Quay complex, the waterfront surrounding the harbor, and the Redcliffe Quay area, where a large portion of all the tourist establishments are located.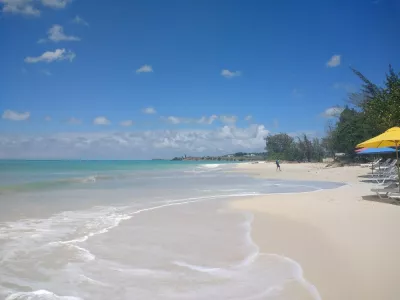 Codrington is the unique capital of Barbuda, which looks like a traditional village. The town is small, but you can find hotels, bars and many cozy shops. It only comes alive on Sundays when it hosts traditional cricket competitions.
Redonda is an uninhabited island, which still preserves pristine tropical flora and fauna. Tourists hardly visit this island, but yachtsmen are happy to drop by. Today, the island is home to a beautiful natural park that is a marvel to behold.
What attractions can I see in Antigua and Barbuda?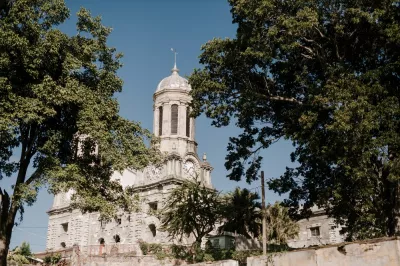 St. John's Cathedral
The white-washed walls of the cathedral with high towers attract tourists to the state of Antigua and Barbuda. This cathedral was built in 1681 and has repeatedly survived earthquakes and natural disasters. Over time, the Baroque style has been preserved, but the interior had to be refinished with pine wood to better preserve this historic monument.
Devil's Bridge
Devil's Bridge, located in a national park in the southeast of the island of Antigua, is a unique architectural structure. This limestone bridge, which spans nine meters, was built in the 16th century on the site of an ancient Roman road that connected the lowlands to the Aegean coast. Nowadays, the bridge is not used for its original purposes, but it is preserved as an important cultural monument. Under the bridge, you can find shelters and hearths where you can rest or take impressive photos.
Martello Tower on the island of Barbuda
At a distance of 5 kilometers from the town of Condrington on the island of Antigua, there is a fortification tower built in 1745. Standing 10 meters high, it has a high platform and stone walls that served as a solid defense against the constant attacks of Caribbean pirates. Today, the tower is open to the public, not guarded, and many tourists do not miss the opportunity to touch this historic structure and a piece of island history.
Thank you for your message!
We will contact you as soon as possible.
Kind regards,
Visa-Navigator.com team
Was the page helpful to you?
0
0
Found an error? Let us know
Leave a comment
Thank you, your feedback is important for us!
An error occurred