Zimbabwe
Zimbabwe is a place where rich cultural heritage and amazing wildlife mix to create a unique atmosphere that attracts tourists from all over the world.
What to see in Zimbabwe?
The country of Zimbabwe, officially the Republic of Zimbabwe, is a sovereign state in South Africa. It is located in the southern half of the continent and borders South Africa, Mozambique, Zambia and Botswana. The capital and largest city of Zimbabwe is Harare. The official language of the country is English, but local languages such as Sindebele and Shona are also widely spoken.
The country's history has had periods of political and economic hardship, including inflation and civil war. However, the situation has begun to improve in recent years, with the government taking steps to stabilize the economy and attract foreign investment. Agriculture, mining and tourism are important sectors of the economy.
Quite noticeably, Zimbabwe is a unique destination for travelers looking to discover new horizons, immerse themselves in the rich history and enjoy the magnificent natural beauty. So, if you are looking for an undiscovered corner of Africa, Zimbabwe is your perfect choice for traveling.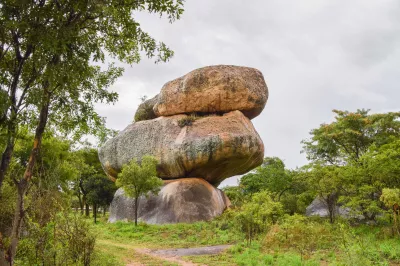 Visit Zimbabwe
Zimbabwe is a country where the African soul and the smell of adventurism come together. Its wealth of historical finds and architectural monuments make it an incredible destination for active and inquisitive travelers.
Zimbabwe's most famous attractions are: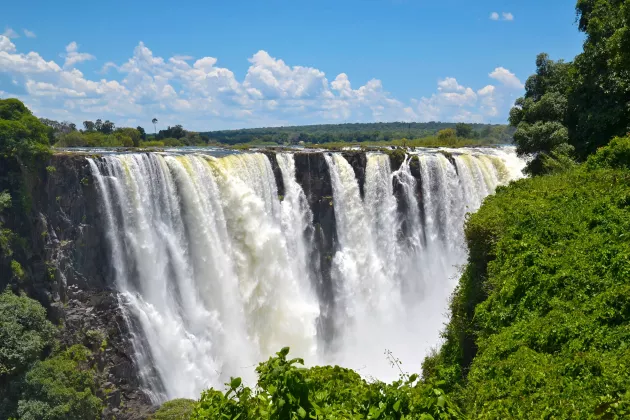 Victoria Falls is one of the most majestic natural phenomena on the planet. It is located on the border of Zimbabwe and Zambia and is popular among tourists. The height of Victoria Falls is about 108 meters and its width exceeds one and a half kilometers. The waterfall is known for its loud noise and the formation of huge amounts of smoke and placers that impress its onlookers.
Victoria Falls is a popular tourist spot and offers various types of entertainment and activities for visitors. There are trails that lead to the very edges of the falls, boat or helicopter rides to fully appreciate its majesty, as well as rafting or skydiving.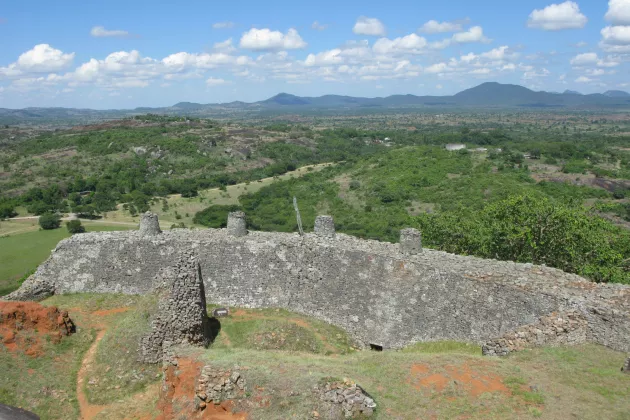 Ancient stone structures in Great Zimbabwe, also known as the "Great Stone Structure". This archaeological complex is a UNESCO World Heritage Site. It was built between the 11th and 15th centuries and is considered one of Africa's most important historical and cultural monuments. They include stone walls, gates, palaces and other structures built without the use of cement or mortars.
The most famous structure in Great Zimbabwe is the Great Building, which is shaped like a huge cone-shaped tower. This structure is the symbol of Zimbabwe and is depicted on its national emblem.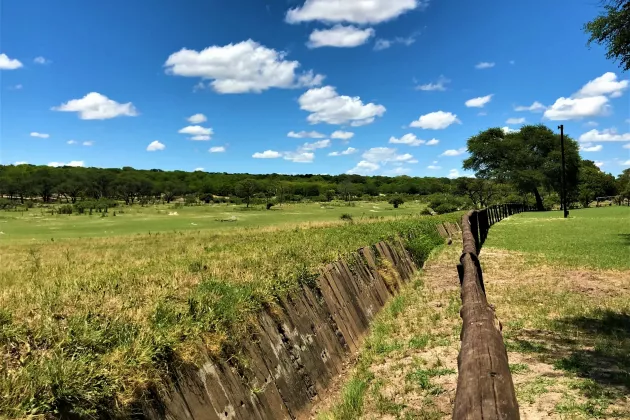 Zimbabwe's savannahs are home to a multitude of wildlife. In Hwange and Matopos National Parks you can find an incredible variety of animals, from elephants, hippos and giraffes, to lions, cheetahs and rhinos. All of these animals live in a free-ranging environment.
Zimbabwe's savannah is diverse with unique vegetation. Here you can see huge fields of grasses, baobab trees. Many species of birds happily inhabit this place, making it ideal for observing and photographing these adorable creatures.
Which cities should tourists visit in Zimbabwe?
Harare
The capital of Zimbabwe and the cultural center of the country. The city is famous for its magnificent historical heritage, including an old fort and a national museum. Harare is also known for its beautiful parks, gardens and picturesque streets where you can enjoy the old world atmosphere. Here, tourists can visit national museums such as the Railway Museum and the National Art Gallery.
Garari
An ancient city known for its majestic fortresses and archaeological sites. Garari is home to the Third and Fourth Stone Structures, which are a UNESCO World Heritage Site. In addition to historical sites, the city is great for hiking and offers stunning views of the surrounding scenery.
Victoria Falls
One of the most famous places in Zimbabwe. This beautiful city is located on the border with Zambia and offers spectacular views of the eponymous waterfalls. Victoria Falls are rightly regarded as some of the most majestic waterfalls in the world, and their rumbling and amazing beauty will leave you speechless.
Bulawayo
The second largest city in Zimbabwe, which many call the "City of Trees". Here you will find an abundance of green spaces, parks and gardens that make the city a true corner of nature. Bulawayo also offers interesting and historically significant sites such as the Matopos Railway Station Museum and the Sesi Disi Monument.
Mutare
A small town that is famous for its beautiful gardens, vegetable gardens and local markets. Here tourists can enjoy the aroma of various flowers and fruits, as well as buy souvenirs and products of local craftsmen.
Zimbabwe's Climate
Zimbabwe is known for its diverse climate and unique weather. In general, this country has a hot and dry climatic condition. The dry season begins in May and lasts until October. During this time, temperatures can reach 30-35 degrees Celsius. Night temperatures usually cool down to 10-15 degrees Celsius. This period is considered the most favorable for visiting Zimbabwe. On the other hand, from the beginning of November until April, the rainy season begins. During this period, the weather becomes more humid and hotter. There can be quite a lot of rain, especially in January and February. The temperature during this time is usually around 25-30 degrees during the day, and it can drop to 15-20 degrees at night. Regardless of when you decide to visit this amazing country, be prepared to adapt to its unique climate for this particular time of year.
Why you should contact Visa-Navigator.com:

By contacting Visa-Navigator.com, you will receive a number of benefits and conveniences. Here are some of them:

Expert knowledge and experience:Our team of expert visa consultants have in-depth knowledge of the processes, regulations and requirements of various countries to assist you in successful visa application.

Personalized approach: We understand that every client is unique and has individual needs and goals. We provide customized strategies to best suit your needs and help you achieve your desired outcome.

Convenience and Efficiency:We offer online counseling and filing to save you time and make the process more convenient. We provide detailed instructions and assistance every step of the way so you can feel confident and informed.

Privacy and Security: Visa and immigration matters often require the sharing of personal information. Visa-Navigator.com provides a high level of privacy and security for your data so that you can feel protected.
We will handle your visa procurement for any country.
Thank you for your message!
We will contact you as soon as possible.
Kind regards,
Visa-Navigator.com team