Sao Tome and Principe
Sao Tome and Principe offers endless beaches, dense rainforests, exotic birds and diverse plant life
What to see in Sao Tome and Principe?
Sao Tome and Principe is a pair of islands in the heart of the Atlantic that offer a true natural abundance: unspoilt beaches, exotic fauna and flora, dense jungles and extinct volcanoes. If you are interested in beach holidays and diving, São Tomé and Principe is your ideal choice.
Sao Tome and Principe is an archipelago located in the Gulf of Guinea, 360 kilometres west of the African coast. This country consists of two main islands, Sao Tome and Principe, 160 kilometres apart, as well as several small rocky islands. The nature of this country has remained untouched and wild. If you are thinking about what to visit in Sao Tome and Principe, you will find endless beaches, dense rainforests, exotic birds and diverse plant life. Snorkelling off the coast, climbing ancient dormant volcanoes and watching unique species of birds that can't be found anywhere else in the world are all available on the islands.
Sao Tome and Principe Attractions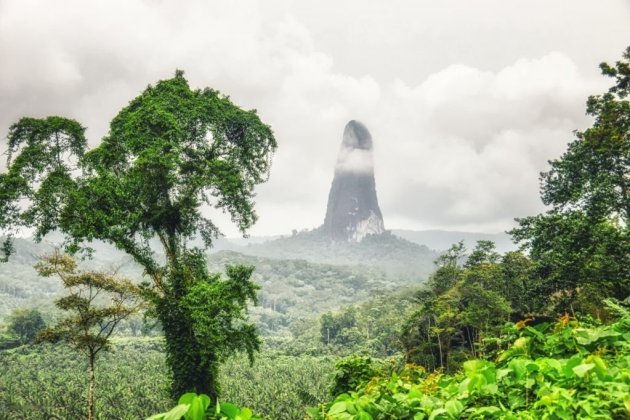 Obo Reserve
The Obo Reserve, established in 2006, was created to protect and conserve the tropical nation's rich biodiversity. Its area is about 252 square kilometres and covers two islands at the same time: about 30% of the protected area is on the island of Sao Tome, while about 65 square kilometres is on Principe. This unique reserve is home to more than 700 species of plants, of which 100 are endemic, and is home to about 30 species of birds.
The park is characterised by diverse landscapes. Mangroves along the coastline are juxtaposed with dense jungle, open savannahs, mountain forests and permanently wet lowlands. The landscape also features abandoned plantations that have almost been swallowed up by wild vegetation.
One of the most recognisable features of this reserve is the volcanic peak of Can Grande, which resembles an arrowhead and rises almost 300 metres above the surrounding area.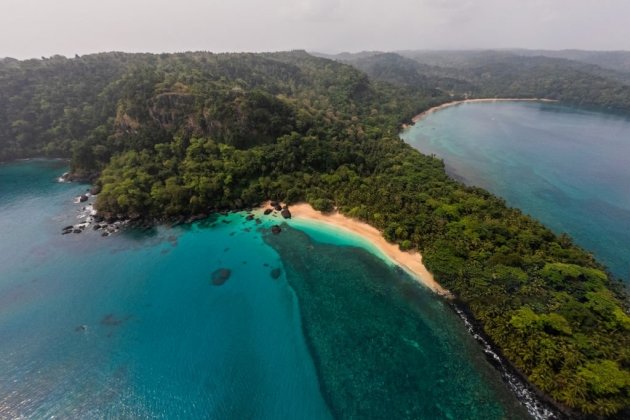 Banana Beach
Banana Beach, the symbol of Principe, is named after its characteristic curved shape. The descent to the shore is quite steep, with drops of up to 100 metres. This point should be taken into account on the way back, when you have to climb up.
The golden sandy beach of Banana is a real treat for those who are on the island of São Tomé and Principe. The tropical vegetation creates a romantic atmosphere and the clear water changes its shade from light blue to deep blue. Large boulders serve as natural barriers to the powerful waves. This place is ideal for a peaceful beach holiday.
Kayaking and snorkelling are available for those who don't like to be out in the sun for long periods of time. However, you should bring your own equipment for these activities as there are no sports equipment rentals at Banana Beach. There is also a café and sun loungers for the convenience of holidaymakers.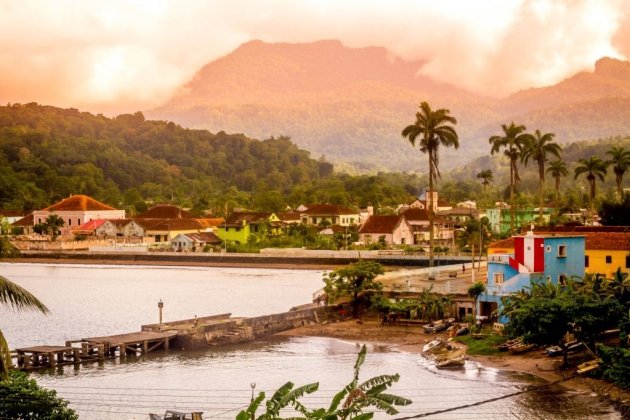 Santo Antonio
Santo Antonio (Portuguese: Santo António) is a settlement on the island of Principe, which is part of the State of Sao Tome and Principe. It also serves as the administrative centre of the Province of Principe and the District of Paguia. Between 1752 and 1852, Santo Antonio was the main town of the colony. It is located on the northeastern coast of the island, near the Palota River. If you are wondering what to see in Sao Tome and Principe, this city is not to be missed, it is known for its beautiful colonial architecture and numerous churches, including the largest of them, the main Roman Catholic cathedral, which was inaugurated in 1947.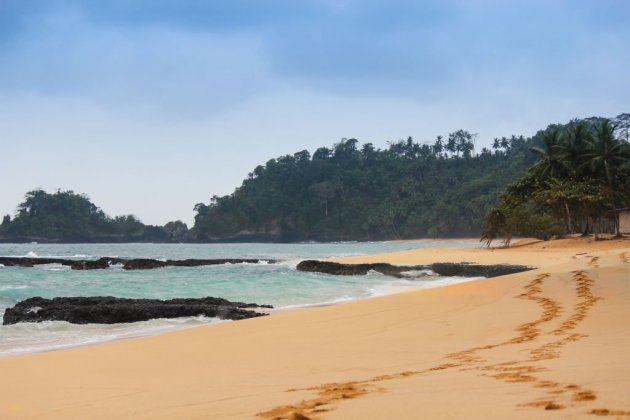 Jale Beach
The long beach with crystal clear water will appeal to those who crave a relaxing holiday and are looking for beautiful natural views. When spreading your towel on the golden sand, be careful - you may come across a turtle's clutch of eggs. During autumn and winter, thousands of these animals come here to lay their young.
In addition to tourists, locals come here to collect coconuts, which are then sold in the markets to visitors to the island.
Why choose Visa-Navigator.com:
We will process the visa application for you
We'll take care of the administrative formalities
We will send your issued visa and documents to you by registered mail
We are always available to answer any questions by phone
Thank you for your message!
We will contact you as soon as possible.
Kind regards,
Visa-Navigator.com team
Was the page helpful to you?
0
0
Found an error? Let us know
Leave a comment
Thank you, your feedback is important for us!
An error occurred