Burkina Faso
Traveling to Burkina Faso will leave you with unforgettable impressions, because this country is rich in historical and natural sights. Here you can get acquainted with the rich history and culture of different ethnic groups, visit many museums and temples. Your trip will definitely be remembered for a long time.
What to see in Burkina Faso?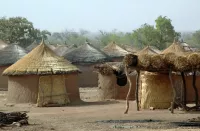 Burkina Faso is a state in West Africa. The capital and largest city of the country is Ouagadougou. The official language of Burkina Faso is French, but in everyday life the people of the country use regional languages such as Mosi, Fulfulde, Dioula, etc.
"Burkina" in the local Mosi language means "honesty" and "Faso" means "homeland". This choice of name symbolizes the people's desire for honest and free development in their land. The country is highly ethnically and culturally diverse, with over 60 different ethnic groups.
Tourism is an important industry for Burkina Faso's economy and a potential source of income for the country. Burkina Faso is rich in historical and cultural attractions such as ancient palaces, mosques and museums where you can learn more about folk traditions and local culture. The country also offers many amazing natural attractions that attract tourists from all over the world. The country is home to a variety of national parks and wildlife sanctuaries where you can enjoy the beautiful nature and variety of wildlife in its natural habitat.
For example, the Punjare de Kumba National Park is famous for its diverse fauna, including elephants, giraffes, lions and other animals. Also worth mentioning is the Komoya-Ouagadougou National Park, where you can see monkeys, crocodiles and other animals. Tourists can discover stunning views of the Karfa waterfalls or stroll through the beautiful scenery of Lake Tangrela. These natural attractions attract adventure and nature lovers, making a trip to Burkina Faso an unforgettable experience.
What to visit in Burkina Faso?
Burkina Faso has several interesting cities to visit when traveling to the country. Each of these cities has its own unique atmosphere and offers opportunities to immerse yourself in the culture and history of Burkina Faso.
Ouagadougou
The capital of the country and the largest city in Burkina Faso. Here you can familiarize yourself with the local culture and history. The city is home to interesting attractions such as the Manego Museum, where you can learn more about the country's traditions and art, and the Place des Nations United, where various cultural and social events take place.
Bobo-Dioulaso
Burkina Faso's second largest city. Here you can enjoy traditional African architecture and art, local dance and music. The city has the famous Grande Mosque, which serves as the center of religious life for the locals.
Ouagadawgoo
A historic city that is the center of the Mosi people. Here you can visit the palaces and temples that are the heritage of this culture, as well as stroll through the street markets and buy traditional handicrafts.
Dedugo
A town located in close proximity to Ouagadougou. Here you can visit the Koum Koumse Park, where you can see lions, giraffes and other animals, and visit local handicraft workshops.
Banfora
A city known for its Lake Tangrela, which is one of the largest in the West African region. Here you can spend time in nature, go boating or try fishing.
Sikasso
A city known for its traditional wooden buildings and senufu style murals. Here you can visit museums, galleries and learn about local culture and handicrafts.
What else to visit for a tourist in Burkina Faso?
The country offers many other interesting attractions to visit in Burkina Faso.
Punjaré de Kumba National Park
This is a large national park, which is famous for its variety of animal life. Here tourists can encounter elephants, buffaloes, giraffes, and lions. The national park is a popular destination for safari driving and walking tours, where tourists can enjoy close contact with wildlife and observe animals in their natural habitat.
Lake Tangrela
It is a large lake located near the town of Banfora. The lake is famous for its rich variety of birds. Here you can relax on the beach, go fishing or take a boat trip while enjoying the picturesque scenery.
Comoia-Ouagadougou National Park
A national park located near Ouagadougou. Monkeys, crocodiles and various species of birds can be seen here. The park organizes canoe tours on the river, allowing tourists to enjoy the beauty of nature from a vantage point in the water.
Karth Waterfalls
These are cascades of waterfalls located in the western part of the country. Here tourists can enjoy stunning natural landscapes and take a dip in the cool waters of the waterfalls.
Mount Non Vel
The highest mountain in Burkina Faso. Its summit offers stunning views of the surrounding countryside. The mountain offers excellent opportunities for hikers and travelers.
The ancient city of Lorio
This is an archaeological site where the ruins of an ancient city are located. Here you will find the ruins of a palace and local dwellings, which date from the 11th to 15th centuries and bear witness to the rich history of the region.
Mosi villages
These are rural villages of the Mosi ethnic group, which is one of the most numerous peoples in the country. In these villages you can immerse yourself in the authentic Mosi culture, learn about their traditions, music, dance and crafts.
Some rules and recommendations when visiting Burkina Faso
Islam is predominant in Burkina Faso and religion plays an important role in the lives of local people. During the month of Ramadan, it is particularly important to respect religious practices and avoid insults. It is recommended to cover the chest and shoulders and to wear long pants or skirts. Both men and women should avoid wearing sleeveless tops and shorts. Certain rules and traditions should also be observed when visiting local mosques, such as removing shoes and observing decent behavior.
Photographing airports, military installations and the vicinity of government offices may be prohibited and considered a violation of the law, so it is advisable to avoid photographing such places without prior authorization.
Observing these cultural and religious sensitivities will help you respect the local culture and create a positive impression of Burkina Faso and its people.
Why apply for a visa with us?
Most citizens require a visa to enter Burkina Faso. A visa is an official document that allows you to enter the country and stay there for a certain period of time. It is mandatory for foreign nationals to comply with Burkina Faso's legal and immigration requirements. If you are planning to visit Burkina Faso, be sure to check the visa requirements and procedures for your nationality in order to properly apply for a visa and avoid possible problems when entering the country.
By contacting our accredited visa agency Visa-Navigator.com, you save your time and effort. We take care of all visa formalities and procedures, allowing you to focus on other aspects of your trip. Our goal is to simplify the entire process for you and ensure a successful visa application without stress and hassle.
Thank you for your message!
We will contact you as soon as possible.
Kind regards,
Visa-Navigator.com team
Was the page helpful to you?
0
0
Found an error? Let us know
Leave a comment
Thank you, your feedback is important for us!
An error occurred