Cape Verde Islands
Cabo Verde has all the conditions for a great vacation - beautiful beaches, vibrant culture, gorgeous nature and a serene atmosphere. It's a place where you can enjoy warm sunshine, beautiful views and the hospitality of the locals.
What to see in Cape Verde?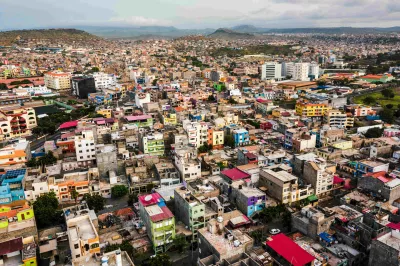 Cape Verde, translated from Portuguese "Cabo Verde" means "Green Cape". This cape is the westernmost point not only of the island but also of the entire African continent.
Cape Verde is famous for its spectacular scenery and beautiful ocean views. Here you can enjoy beautiful beaches, volcanoes, mountain ranges and amazing sunsets, as well as watch the powerful ocean waves meeting the waters of the Atlantic Ocean and the westerly winds.
In addition to the mesmerizing views, Cape Verde offers the opportunity to immerse yourself in local culture and traditions, including colonial architecture and musical traditions. Famous musical genres such as morna and kizomba can be enjoyed here. Morna is a melancholic and moving musical style, while Kizomba, is a dance style and music derived from African and Latin American traditions. Cape Verde is a popular destination for tourists who seek solitude and wish to enjoy the power of nature and tranquility.
To visit on Cape Verde
Cape Verde, officially the Republic of Cabo Verde, is a state located in the Atlantic island archipelago off the west coast of Africa. It consists of 10 islands and several small rocky formations. The capital of the country is the city of Praia.
Cabo Verde is one of the most developed countries in Western Africa. The main industries are tourism, fishing, agriculture and services.
The climate in Cape Verde is subtropical and ranges from dry desert to more humid. The country enjoys sunny weather for most of the year.
Languages used in Cape Verde include Portuguese (official), Creole, and other local languages.
Interesting cities in Cabo Verde
Praja
The capital and largest city of the country. It is home to government and administrative offices, as well as many historical and cultural sites.
Mindelu
The second largest city of Cabo Verde, located on the island of Santa Antao. This city surprises with its Portuguese-style architecture and picturesque mountainous landscape.
Sal Ribeira Grande
A town on the island of Sal, popular with tourists for its beaches and water sports opportunities.
Santa Maria
A resort town, also located on the island of Sal. Here you can enjoy beautiful beaches, outdoor activities and local culture.
Porto Novo
One of the main towns on the island of Santiago. In this town you can visit historic buildings, local markets and enjoy the cultural heritage of Cabo Verde.
Cabo Verde offers many attractions and unique places to visit.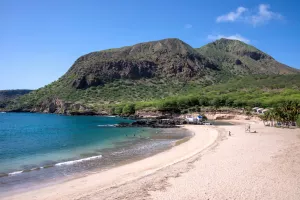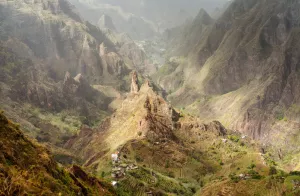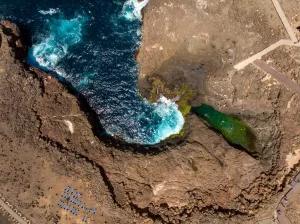 Uninhabited Islands: The Cabo Verde archipelago includes several uninhabited islands such as Brateru and Razoi. They are unique natural reserves and protected areas where you can observe a variety of flora and fauna.
Beaches: Cabo Verde is famous for its beautiful beaches and turquoise waters. No matter which island you are on, you are sure to find beaches with white sand, warm waters and crystal clear seas. Popular beaches such as Santa Maria Beach on Sal Island, Praia Beach on São Tiago Island and Porto Mos Beach on Boavista Island attract tourists from all over the world. The beaches are ideal for relaxing in the sun or practicing water sports such as surfing, kitesurfing or diving.
Volcanoes: Cabo Verde has several volcanoes such as Fogo Peak on the island of Fogo, Pic de Halmi on the island of São Nicolau and others. Some of them are accessible to visit and offer stunning panoramic views and great trekking routes.
Historical Sites: Cabo Verde has a rich history and there are many historical sites and monuments to visit on the islands. Some of these include the Old Town of Praia, Santa Maria Fortress and numerous old churches and colonial style buildings.
Carnivals: this is another colorful feature of Cabo Verdean culture. Each island celebrates its own carnival with locals and tourists alike. These festivities are accompanied by colorful costumes, parades, music and dancing, allowing you to immerse yourself in the heady atmosphere of this cultural event. The most famous carnivals take place in the capital of Praia, on the island of São Tiago, and in Mindelo, on the island of Santa Antayo.
Music festivals such as the Great Kizomba and the Mindelu Music Festival. These events attract talented artists from across the country and beyond, offering a unique blend of music and entertainment. With its rich and diverse cultural scene, Cabo Verde offers a unique opportunity to enjoy local music, dance and festivities that will be remembered for a lifetime.
Why apply for Cabo Verde visas with us at Visa-Navigator.com?
When you contact us for Cabo Verde visas, you will receive a professional and reliable service to ensure your visa is processed quickly and smoothly. Our team of experts are well versed in Cabo Verde visa requirements and procedures, and we will provide you with all the information and support you need. We value your time and strive to make the visa application process as convenient and carefree as possible. Trust us and you will be able to enjoy your trip to Cabo Verde without worrying about visa formalities.
Thank you for your message!
We will contact you as soon as possible.
Kind regards,
Visa-Navigator.com team
Was the page helpful to you?
0
0
Found an error? Let us know
Leave a comment
Thank you, your feedback is important for us!
An error occurred